On December 7, Li Chenyuan, Vice-Chairman of Xiuzhou District People's Government of Jiaxing City, Zhejiang Province, Director-General of Xiuzhou District Science and Technology Bureau of Jiaxing City, Vice-Secretary of Party and Labor Committee of Xiuzhou High-tech Industrial Development Zone of Jiaxing City, and Zhu Jie, Director of Science and Technology and Talents Bureau of Xiuzhou High-tech Industrial Development Zone of Jiaxing City, visited Nord Investment Co., Ltd. (abbreviated as Nord Stock), vice-director of Nord Stock Company. President and President Xu Songqing, Vice President and Secretary of the Board of Directors Li Pengcheng and Financial Director Wang Liwen received guests and held a symposium and communication meeting.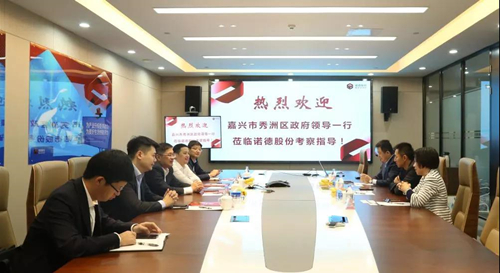 At the meeting, Vice-President Li Chen-yuan enthusiastically introduced the good investment policies and investment management environment of Jiaxing City, and introduced the investment projects of Xiuzhou High-tech Zone in Jiaxing City. He warmly invited the company leaders to conduct on-the-spot investigation and research. He looked forward to seizing the current opportunities with Nord shares and jointly promoting the economic and social development of Jiaxing City.
Xu Songqing, vice chairman and President of Nord Stock Company, affirmed Jiaxing's unique position and huge development potential. In his communication, Xu Songqing said that he would arrange further investigation in order to find the right time to go to Jiaxing City for investment and development.
Subsequently, the company introduced to the leaders of Xiuzhou District of Jiaxing City Nord's scale of enterprise, R&D strength, industrial layout, market environment, future planning and so on, which was highly appreciated by the leaders attending the meeting.
In the future, Nord shares will continue to take into account the social responsibility of enterprises while their own economy is developing. I believe that with the care of leaders at all levels, Nord shares will be able to base itself on the present, focus on the future, innovate the mechanism and build a solid foundation for the company's next development.